Vehicle Struck by Train in Rural Marshall County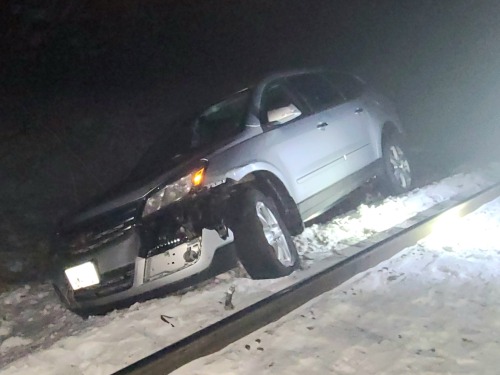 January 20, 2023 at 7:48 am
At approximately 3:30 AM Marshall County Communications Center received a call from Union Pacific Railroad that a vehicle was noticed by a passing train in a remote area along the railroad tracks near the 2200-mile of Marshalltown Boulevard. As Deputies were responding, United Pacific Railroad called a second time stating that a second train struck the vehicle at 3:48 AM.
When deputies arrived on scene, an unoccupied silver 2017 Chevrolet Traverse was located. During an initial search of the area, it was determined the occupants had left the area on foot with no indication of injuries to the driver or possible occupants. As the investigation continued it was discovered the vehicle was stolen from a residence in State Center, Iowa in the late evening hours of Thursday, January 19th or early morning hours of January 20th.
Union Pacific Railroad has resumed rail operations on one track and full operations are expected once the vehicle is removed from the railroad right-of-way.
This investigation is ongoing, if anyone has information, please contact the Marshall County Sheriff's Office at 641-754-6380, State Center Police Department 641-483-2107, or the Marshall County Communications Center 641-754-5725.
The Marshall County Sheriff's Office was assisted by Marshalltown Police Department, Union Pacific Railroad, Unity Point Health Ambulance Service, State Center Fire Department, Haverhill Fire Department, Liscomb, Albion, Melbourne and Rhodes First Responders.
About Marshall County Sheriff's Office
The Marshall County, Iowa Sheriff's Office is led by Sheriff Joel Phillips. Sheriff Phillips is committed to keeping communities and neighborhoods safe in Marshall County.
More News