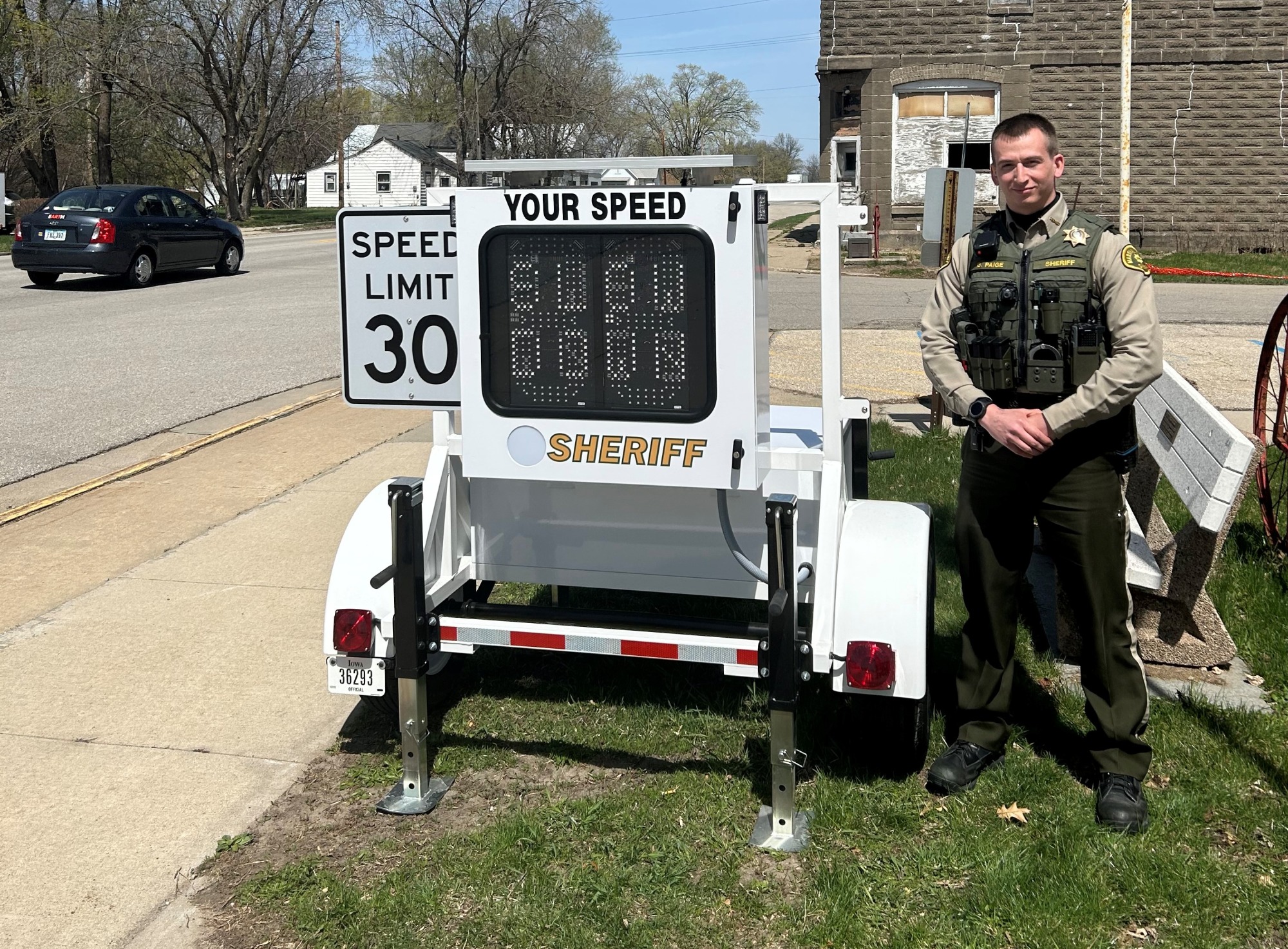 Marshall County Debuts New Speed Trailer
April 19, 2023
Pictured above: Deputy Blake Paige with the Sheriff's Office Traffic Unit poses with the new trailer after setting it up its first deployment.
Marshall County recently took delivery of a new mobile speed trailer from MPH Industries. This was a joint purchase between the Sheriff's Office and Secondary Roads Department. The trailer has four adjustable jack stands on the corners that allows the trailer to be set up in a level position on roadsides with uneven terrain that is often present in rural settings. It has dual 12 volt batteries and a solar panel charging system to allow the trailer to operate for up to a week or more without having to be connected to a power source. The trailer is used to display the speed of passing vehicles.
This trailer is not a speed camera and has no enforcement capabilities or cameras. The sign has programmable display that can display the vehicle's actual speed utilizing a built in RADAR and a message that reads "SLOW DOWN" and red and blue lights temporarily flash if the vehicle is driving above a preset speed limit. The trailer also has a fixed speed limit sign that displays the speed zone at that location. The sign is programmable so that speeds above a preset limit will not be displayed on the screen to discourage any attempts from drivers to record high speeds for entertainment purposes.
Speed trailers like this have been around for years and drivers have probably seen similar versions in various cities and counties. They are often called "traffic calming devices" by those in the traffic safety industry. Digital speed displays can be on mobile trailers or on post-mounted electronic signs. Most drivers can relate to instinctively tapping their brakes when they see their speed displayed if it is above the posted speed limit. Speed trailers and signs are just one method of improving traffic safety. Digital signs provide a 24/7 visual reminder to passing motorists. This is beneficial in all areas but is especially important in higher-risk areas with pedestrian traffic such as school or construction zones.
The trailer does have the ability to collect limited data about passing vehicles. It can collect vehicle counts, date, time, and speeds of passing vehicles but nothing unique about the vehicle or the vehicle occupants. This data is useful to determine the traffic volume of a specific area of roadway as well as help determine if there is a speed problem and if so, what time of day or even what days of the week. The Sheriff's Office will utilize this data along with data from other sources and crash data to target enforcement efforts in areas where it will have the greatest impact on traffic safety. The Traffic Unit will move this trailer around to various locations throughout the year.
Sheriff Phillips said "We have hundreds of miles of roads to patrol in Marshall County. Utilizing technology and data allows us to be more efficient with our resources and concentrate enforcement efforts in the right place at the right time to keep our roadways safe." If you have questions or concerns about traffic safety in Marshall County, please contact the Sheriff's Office.
More News