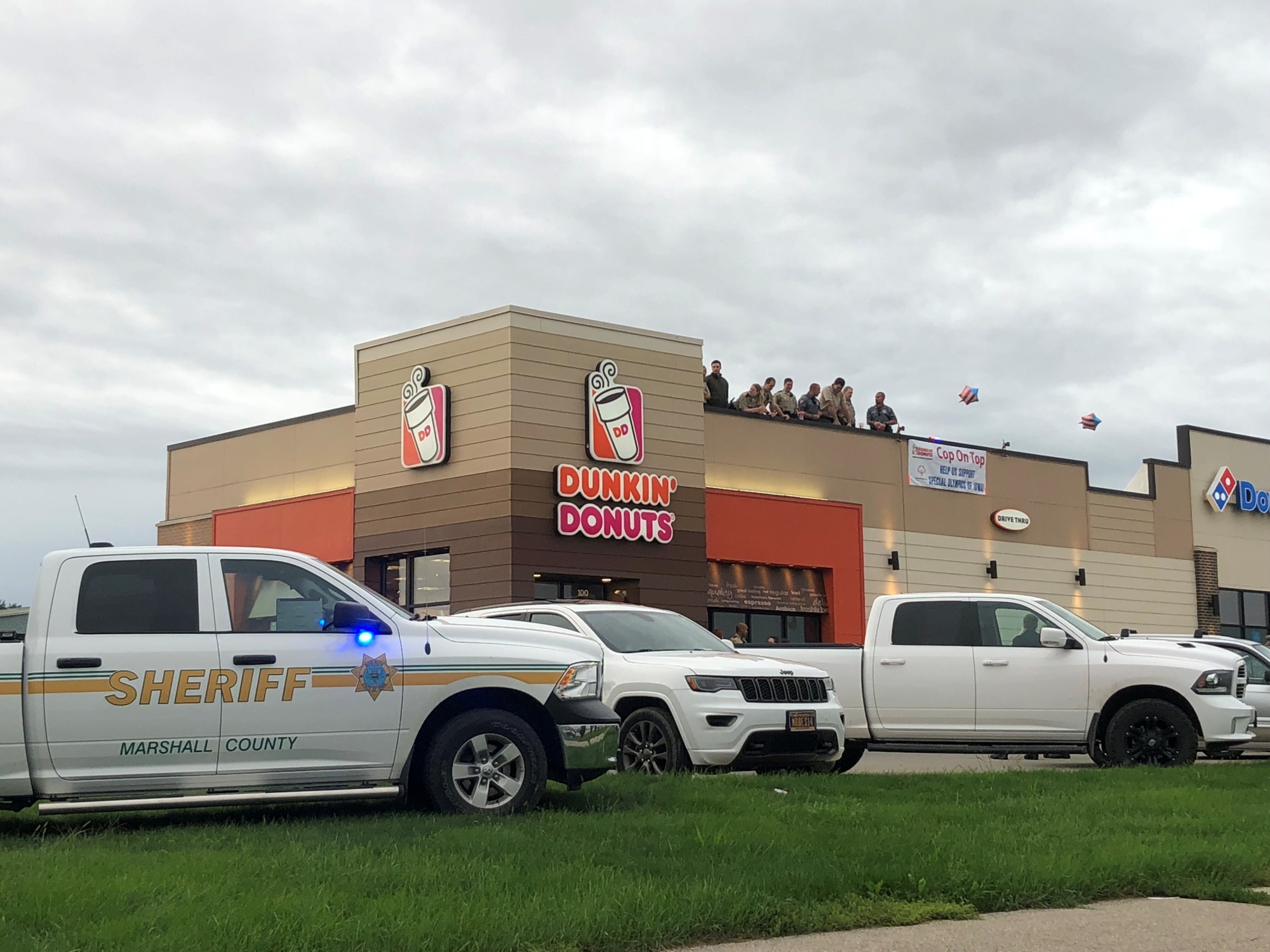 Cop on a Rooftop for Special Olympics Iowa
August 17, 2022
It's that time again – this Friday, August 19th 5:00AM-12:00PM is the 7th annual "Cop on a Rooftop" event at Dunkin Donuts in Marshalltown raising money for Special Olympics Iowa. Last year, the event naming changed and became part of a new national campaign called "Coffee for Champions". For 2022 the campaign has officially changed back to "Cop on a Rooftop". Local law enforcement officers from various agencies will be present to raise awareness and collect donations for Special Olympics Iowa. This is a fun event that helps promote positive relationships with local law enforcement in our community and helps our local Special Olympians. There will be QR codes and Venmo options for donors to use this year in addition to the cash or check options for donations.
This is a statewide event held at 21 locations across Iowa at the same time and part of a long-standing partnership between Special Olympics and Iowa law enforcement agencies. The Marshalltown location has been one of the highest fundraising locations in the state the last few years and hopes to keep the trend going. Last year, our Marshalltown location raised $2400. 100% of the money raised stays in Iowa and helps fund programs for the Special Olympics athletes. Since the partnership with Dunkin started in 2015, over $130,000 has been raised statewide.
Law Enforcement Torch Run
The Law Enforcement Torch Run for Special Olympics (LETR) is the largest grassroots fundraising vehicle in the world.
The annual Torch Run and its various fundraising projects have two goals: raise money and create awareness for the athletes who participate in Special Olympics.
More than 1,000 law enforcement officers around the state of Iowa annually participate in LETR programs.
Special Olympics
Special Olympics Iowa provides year-round training and competition opportunities through 23 different Olympic-type sports for more than 14,500 Special Olympics Athletes and Unified partners.
Through Special Olympics' athletic, health, school, and leadership programs, individuals with intellectual disabilities reach their full potential and experience inclusion in their communities every day.
For other participating Dunkin locations, visit www.soiowa.org.
For additional information contact:
Chief Deputy Ben Veren
Marshall County Sheriff's Office
bveren@marshallcountyia.gov
www.marshallcountysheriff.com
.
More News